Our goal is to uplift the spirits and enhance each day of our seniors by providing personalized care within a home that is comfortable, inspiring and worry-free. Americare is an assisted living / senior board & care that provides a home-style atmosphere for seniors who are unable to live independently but who do not require constant medical attention. We are an ideal solution for seniors who need assistance with daily living activities, such as bathing, dressing and medication reminders. We focus on wellness and keeping residents as independent as possible through our quality of care and implementation of very personalized care plans. We are ideal for seniors who:
Require assistance with daily living activities (grooming, bathing, eating or toileting)
Need meals prepared and served
Require laundry and housekeeping services
May use a wheelchair, a walker or cane
Require management and monitoring of medications
May be alert but is unable to live independently
Is forgetful or confused
May have medical conditions or physical challenges
Require incontinence care
Need transportation and assistance to medical or personal appointments
Need more personalized care
The Americare Advantage
Americare is a MORE PERSONALIZED ALTERNATIVE to the larger (50+ residents) assisted living / senior board & care facilities. Like the large facilities, we fall under the umbrella of the RCFE (Residential Care Facility for the Elderly) and are regulated by the California Department of Social Services; however, our "homes" are actual homes rather than large facilities. This results in a feeling of intimacy, coziness, hominess, friendliness and warmth that is difficult to achieve in the larger communities.
This environment is ideal for the senior who: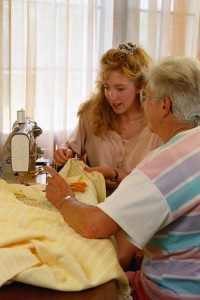 May be susceptible to falling
May frequently wake at night and require assistance
Can't easily ambulate within a larger facility
Desires a more home-like setting
Desires more personalized care and social activities
Additional features of our homes include:
3 to 1 Resident to Caregiver Ratio
Maximum of 6 residents per home
Private rooms
Daily housekeeping / laundry
Daily bathing
Our Staff
At Americare, we have caregivers and staff who are dedicated to serving seniors. Our staff are committed to caring for each of our seniors and are attentive to the concerns of our family members. In addition, our caregivers have been well trained in and have extensive experience in caring for seniors with Alzheimers, Dementia, Parkinson's and Hip Replacements as well as those with hearing and visual impediments. We understand that together as a team, we can make each senior as happy and healthy as they can possibly be.